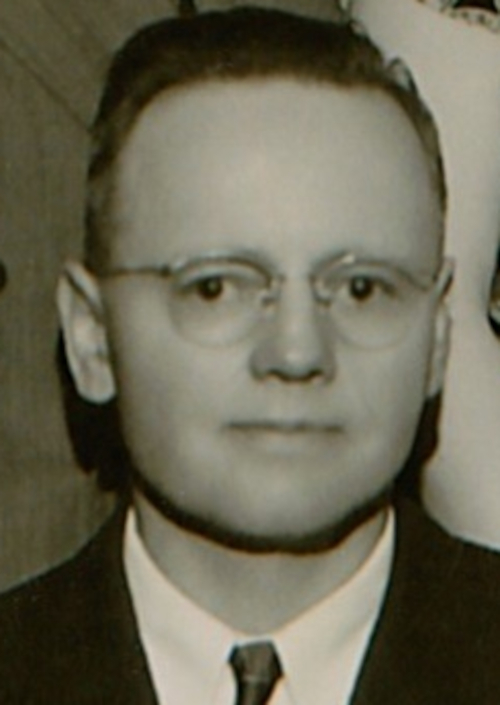 Gilmore Reuben Bernadotte Lindgren.
Born November 5, 1904, in Forest City, IA.
Died March 19th, 1993 (age 89).
Married: June 26, 1930 to Hazel Marie Hill (born November 27, 1907).
They were parents of four boys; Richard "Dick", Theodore "Ted", Carleton "Carl" and Jon. The four sons left Lanyon after high school and among them earned 2 medical degrees (MD), 2 doctorates (PhD) and a law degree.
Education: Iowa State College in agriculture and animal husbandry.
Occupation: Agriculture Teacher, Farmer.
Children
Richard Dan "Dick" Lindgren, MD. Dick married Ardeth Elaine Bradley and had four children; Laura Louise, Eric Daniel, Mark Richard, and Amy Beth. Dick and Ardeth lived in Madison WI, where Dick practiced radiology.
Theodore "Ted" Lindgren, PhD, JD, married Henrietta Elisabeth ("Bett") Parnell. They had three children; Lisa, John and Anne. Ted and Bet lived in Houston as well as Georgia and Florida. Ted was on the faculty at Emory University and the University of South Florida where he established the Department of Electrical Engineering. He practiced patent law in Florida, New York and Texas.
Carleton Jay ("Carl") Lindgren, MD. Carl married Alice Jane Ryan and had two children; Carla and Jay. Carl and Alice lived in Independence, MO where Carl practiced psychiatry.
Jon Gilmore Lindgren, PhD, married Elaine Wiederrecht and had two children; Ann and Ken. Jon and Elaine were both professors (Economics and Sociology, respectively) at North Dakota State University. Jon also served several terms as Mayor of Fargo, ND. Jon has a page on Wikipedia, which was developed a few years ago by his nephew Jay Lindgren.
I Remember Dad
Jon Lindgren, Gill's youngest son, remembered that his father was unique among the farmers around their central Iowa area in that he was the only one with a college degree. His approach to management of the farm was based on science. He participated and provided leadership for the Farmers Organization. It was said that he was the only farmer who carried a fountain pen in his bib overalls and used it frequently to make notes for future reference. Jon commented that he was colloquially known as "Giley" among his friends and other farm owners in the surrounding area. Jon's cousin Steve Lindgren, once commented that all of the Frank and Amy siblings seemed to be very even tempered and rarely raised their voices; Jon responded, recognizing that around a farm there was always important and timely work to be done, saying that; "Yes, but it was a little different when your Dad was also your boss."
Other contributions are solicited …
I Remember Grandpa
Contributions are solicited …
I Remember Uncle Gil
Contributions are solicited …