John was born in Sweden and emigrated to America in 1891. Details of his passage across the Atlantic and through American states to Iowa will, we hope, be documented on these pages. He was committed to Family and Farming. Arriving in America his surname was Petersson following the Swedish tradition of taking his fathers given name and adding "son" to it. Arriving in central Iowa, John Petersson realized there were already many of Swedish descedants who bore names like Johnson, Anderson, Carlson, Nelson and so on. Also following a tradition from his home country, he changed his surname to Lindgren. Unfortunately it remains a mystery as to why he picked Lindgren. Perhaps some day through our Lindgren connections we will learn more.
Elizabeth Johnson "Lizzie" was born in America and resided with her family in central Iowa near the tiny town of Lanyon where she attended school. She met and married John Lindgren. Lizzie had five siblings including a younger sister, Amy, who married John's brother Frank. Thus, we are privileged to have many "double" cousins, some we know and many we anticipate knowing.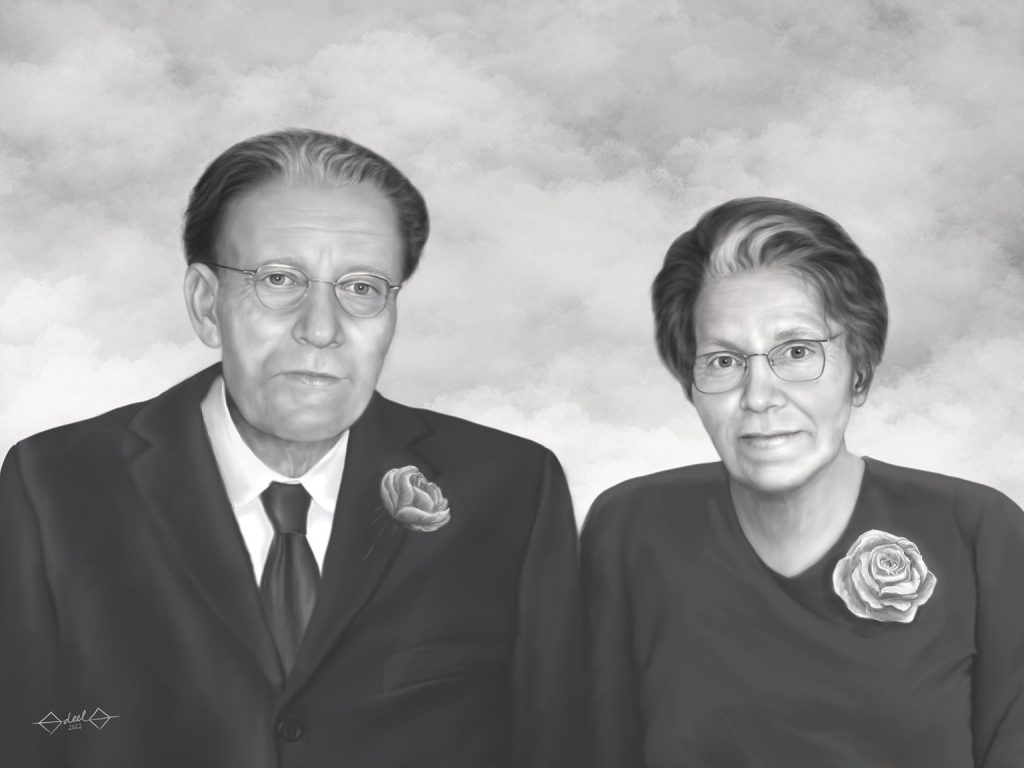 John and Lizzie on the occasion of their 50th Wedding Anniversary.
Children born to John and Lizzie are:
Olive Lindgren — Olive—first born daught er who helped raise all of her younger siblings, especially her last-born sisters, LaVerna and Elvira. Olive never married and died relatively young at age 61. At the time of her death she was helping her younger sister, LaVerna, raise her three young children as a single mother having lost her husband, Robert, the year before.
Melvin Lindgren — Melvin–first born child (and son) who died of cancer at age 18. It was said John collapsed on hearing the grim news. Since the extension phase of the family was complete at the time of his death in 1918, with the exception of his youngest siblings (Paul, LaVerna, Elvira), all of his siblings would have known and loved their older brother
Harold Lindgren — Harold—married Betty Fields, farmed near Churdan raising both livestock (known for their purebred Angus cattle) and field crops (mostly corn and soybeans). They had two children: (1) Ann, who became a nun but left after several years to marry a former Jim Dunnegan (religion teacher) and do social work, and (2) John, who took over their farm, married a much younger woman from Mexico when he was 50 years old, and had two children.
Filmore Lindgren — Filmore—the third-born, Fil married (Doris) and had one child, Phyllis, a daughter who experienced some mild mental health issues. Phyllis married and had three daughters (Cindy, Candace & Cheryl), all of whom were successful including one (Cindy) who was accomplished pianist and Stanford University engineering graduate. Fil worked at odd jobs when he lived in Iowa and driver/chauffer when he and Doris lived in Phoenix, Arizona.
Theodore Lindgren — Ted—raised field crops, cattle and hogs on some of the original land that had been owned by his father outside of Paton less than a mile from the home place. He married a teacher (Martha) and had three daughters—Sharon, Karon (twins) and Jennifer.
Leonard Lindgren — Leonard—farmed a portion of the original family land. Since all men between the ages of 18 and 38 were eligible for the military draft after the attack on Pearl Harbor (December 1941), all of the Lindgren sons except Fil were eligible since they were in their late 20s or early- to mid-30s. Although Harold, Ted and Paul avoided the draft since they were all married and farming at the time, 33-year old Leonard served with the Army's Merrill's Marauders in Burma during the war. After the war Leonard married Marie Small, the widow of a man killed WWII who already had two children—Larry and Janice Small. Leonard and Marie produced two of their own children, Galen and Brent.
Verner Lindgren — Verner—married (wife—Jennie) and adopted son a son named Roger. Was farming when he was killed in his mid-30s while blasting rock.
Paul Lindgren — Paul—took over the original family house and farmed a portion of the land deeded to him by his father. He married (Cleo) and had three sons—Dick, Dennis and Darrel. Dick attended and graduated from Iowa State on a baseball scholarship and worked near Des Moines in agricultural commodity marketing
Laverna Lindgren Carey — LaVerna—attended secretarial school (AIB) in Des Moines while playing basketball (same as Elvera). Joined the Navy Waves in her late 20s where she re-connected with and married Robert Carey, a man she knew from Paton high school. They farmed near Dana and had three children—Barb a teacher in Colorado, James an entomology professor at the University of California, Davis, and Kathy (Kate) a K-8 educator, consultant and curriculum sales manager (Seattle to Syracuse)
Elvira Lindgren — Elvera—last born and thus youngest by 15 years (relative to Melvin), married Richard Norman (Norm) White, and adopted two children (Bill and Bobbi). Lived on a small acreage outside of Boone. With her husband ran upscale women's clothing stores in both Boone and Ames (White's omen's Clothing).
As we continue our quest to learn about the Lindgren Connections, we look forward to gaining new knowledge of the children of John and Lizzie Lindgren, as well as their grandchildren and great grandchildren. We hope that in the not too distant future we will find links to all of John and Lizzie's children. Jim Carey, son of Laverna, provided the brief vignettes of the ten children of Lizzie and John Lindgren above.