A Recent Find …
Dick Lindgren recently sent along the picture below of a loader similar to the loaders that Grandpa Frank Lindgren invented, patented and manufactured in Lanyon following his retirement from farming. Dick estimates that perhaps as many a 100 of the loaders were built and sold. The loader pictured is very similar but has some features that make it certain that it was not one built by Grandpa Frank.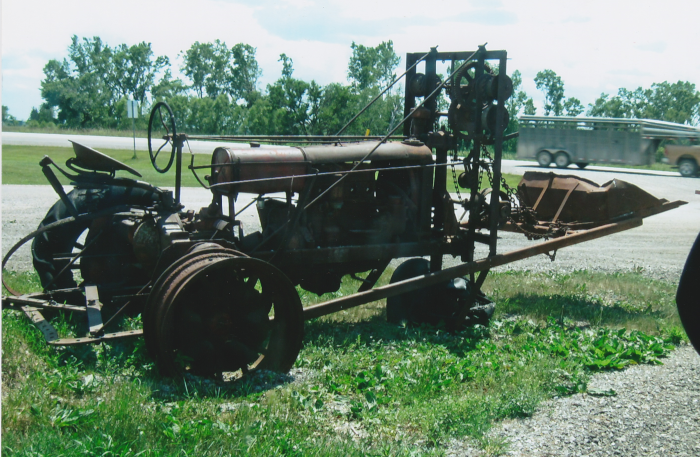 Dick writes that the loader pictured "looks a lot like his." and and adds " I like Frank's design better. The iron from the bucket on his [Frank's] goes back to above the axel, so the bucket is farther back when it is down and and doesn't move back as far when it is up in Frank's design. Frank's lift system seems better."
Dick also noted that Frank Lindgren modified his plans for the stacker and possibly made 100 loaders in Lanyon. Accordingly it is possible that the loader pictured was similar to those made by Grandpa Frank or was built based on one that Frank built. Dick found this loader-tractor combination northwest of Iowa City.
The original photograph was mailed to Bruce Lindgren in June 2021 and will be kept with other archival materials in Minneapolis by either Bruce or by his brother Steve and Steve's son Stuart.
Thanks Dick for this contribution.
Editor Note: Dick Lindgren is the oldest grandson of Frank and Amy Lindgren. He grew up on the farmstead that Frank and Amy supported until the early 1940s when Dick's father and mother, Gilmore and Hazel owned the farm following Frank and Amy's retirement to Lanyon, IA which is about one mile north of the farmstead. Dick lives in Madison WI.