Ed. Note: Linnae Coss is the daughter of Ruth Lindgren Coss
January 2021:
Below are six photos which originally belonged to Irene Lindgren Lessing, who passed away on December 7, 2013 at age 96.  Aunt Irene sent these photos to Uncle Em's daughter Sonja Noordeloos several years ago (Sonja's daughter Farah Irene is named after Aunt Irene).  Sonja sent the photos to me in December 2020, while she was clearing things out in preparation for her and Jon's move from San Diego CA to Tucson AZ.  I have approximately dated the photos based on the birth dates of the Lindgren children pictured here: Roy – 5/15/20; Irene – 8/7/17; Ruth – 1/15/13.
Four of the six photos are snapshots, probably from a small photo album which Irene put together as a teenager. (Irene's sister Ruth had a similar album.) The photos were glued to the black paper pages (rather than using photo corners), so there is slight damage to the photos which were removed from the pages.
I have labeled the first two photos "ca. 1920 (Irene 3, Roy 6 months)" and "ca. 1924 (Ruth 11, Irene 7, Roy 4)." They are still attached to a single black album page, measuring 5×8 inches. The 1920 photo shows Irene and Roy wearing warm clothes, so it was probably taken in the fall of 1920 (Roy was born in May of that year, and looks to be a few months old). Most of the page has been cropped digitally when scanning it, showing only the photos and the captions underneath.
The third and fourth photos have been peeled or pried from the black album pages. I labeled them "1920s, Lanyon school " and "ca. 1928, Roy and Irene, ages 8 and 11." Bits of black paper are still stuck to the backs. There are notes written with a pen directly on the front of each photo, in a shaky handwriting, probably by Aunt Irene toward the end of her life, when she was taking the album apart to send photos to various people. On the school picture, she wrote: "Our School, 5-12 grades, Lanyon," and on the 1928 photo, she wrote "Irene, Roy."
The fifth and sixth photos are the front and back of an 8X10 glossy photograph taken professionally in 1954 (when Irene was 37 years old). The subjects are Aunt Irene and "King Kong" (looking a little the worse-for-wear). It is a just-for-fun photo from her career days. The scanned copy of the back of the photo shows Irene's inscription, in her then-typical bold handwriting:
"Irene L. Lessing, 1954. Taken in a television studio – for fun! Irene had a cooking show on ch. WFBM-TV in Indianapolis, Indiana, 1953-58, in an adjoining studio."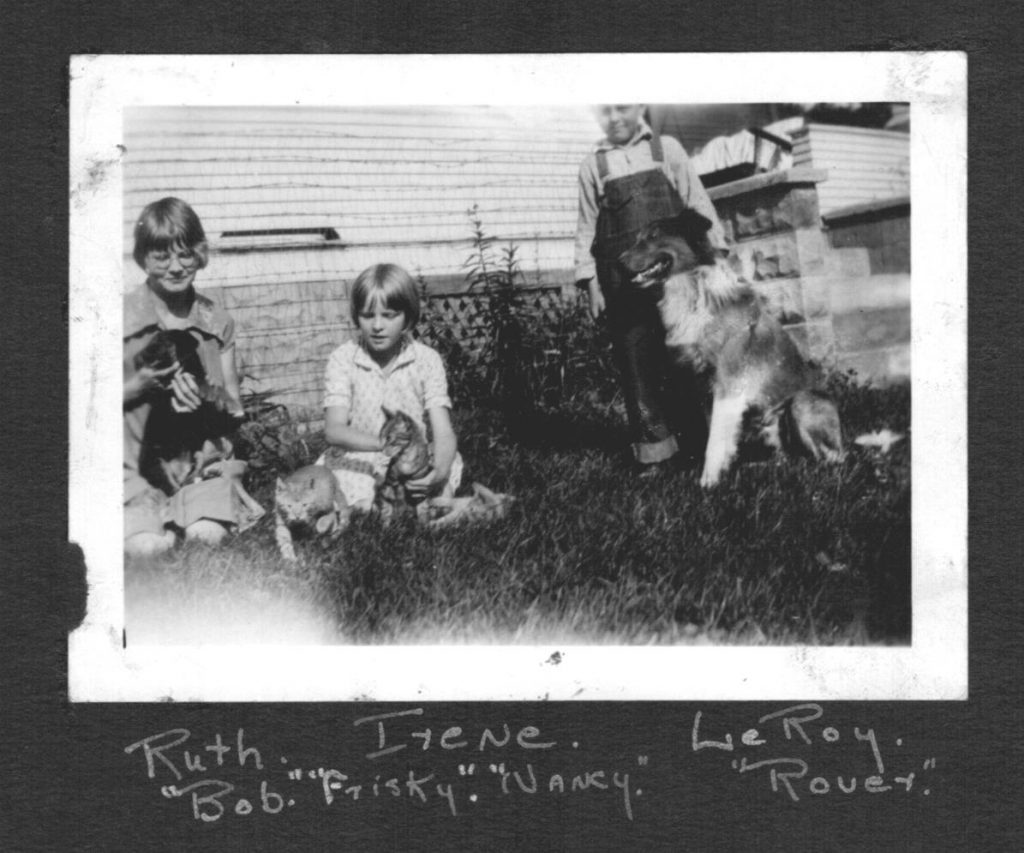 Gallery Note: to view the full image, right-click. To return to the gallery view use your browser's back button or ALT-Left arrow.
Top Row: "ca. 1920 (Irene 3, Roy 6 months)" | "ca. 1924 (Ruth 11, Irene 7, Roy 4)." | Lanyon School.
Bottom Row: "ca. 1928, Roy and Irene, ages 8 and 11." | Aunt Irene and "King Kong" | Irene's inscription.